Strike Witches: 501 Butai Hasshin Shimasu! Episode 1 Subtitle Indonesia
Server Satu
Server Dua
Server Tiga
Lihat Daftar Episode
Theather Mode
Nama Anime :
Strike Witches: 501 Butai Hasshin Shimasu!
Alternative Name :
ストライクウィッチーズ 501部隊発進しますっ!
Genre :
Military, Sci-Fi, Comedy, Shounen
Type :
TV
Jumlah Episode :
12
Jadwal Tayang :
Hari Rabu jam 00:45 (JST)
Subtitle :
Indonesia
Sinopsis :
Yoshika Miyafuji joins the 501st Joint Fighter Wing, a defense unit specializing in taking down alien beings known as the Neuroi. However, in days of no invasion, she and the members of the unit are taking down day to day tasks like cooking and laundry.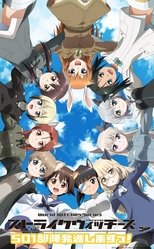 ---
Anime Strike Witches: 501 Butai Hasshin Shimasu! Episode 1 Subtitle Indonesia terbaru subtitle indonesia di manganime. Strike Witches: 501 Butai Hasshin Shimasu! Episode 1 Subtitle Indonesia, Strike Witches: 501 Butai Hasshin Shimasu! Episode 1 Subtitle Indonesia sub indo. di manganime. Namun harus di ingat bahwa blog ini hanya sebagai media promosi dan review semata saja Dan jika anda suka . Dukung mangakanya dengan membeli VCD aslinya jika Sudah Rilis Di kotamu untuk menghargai para pengarang, dan Dukung kami dengan cara men-Disable AdBlock yang ada di browser kalian agar kami masih tetap bisa memberikan hiburan buat kalian,